What is VIA Link?
VIA Link is a new on-demand ride-sharing program that offers affordable public transit options to neighborhoods and cities in the VIA service area where traditional bus routes are not feasible.
VIA Link Service
Similar to Uber or Lyft ridesharing services, customers in the Northeast and Northwest Zones may use a convenient app or make a phone call to request a VIA Link passenger van to come to their location for a trip that can begin and end anywhere within the zone. Customers may also connect to regular VIA bus service to continue their trip to bus stops across the VIA service area. As many as three people may be picked up during a VIA Link trip.
VIA Link Express Service
In the new Sandy Oaks Zone, VIA Link Express customers may call, go online or use a mobile app to book a VIA Link passenger van to pick them up at their location for a ride to VIA's Brooks Transit Center in Southeast San Antonio. From there, they may transfer to a VIA bus or VIAtrans vehicle to continue their trips. Depending on the vehicle, as many as three people can be picked up. Unlike regular VIA Link service, trips within the VIA Link Express Sandy Oaks Zone are not available. The Sandy Oaks Zone is a pilot program that may be adjusted after the initial service starts.
Hours of Operation
Seven days a week
5:30 a.m. to 9:30 p.m.
Bus Transfer Points
Naco Pass
Connecting Bus Routes
14 and 502
Hours of Operation
Seven days a week
5:30 a.m. to 9:30 p.m.
Bus Transfer Points
UTSA, Northwest Vista College, Mainland
Connecting Bus Routes
64, 88, 93, 501, 603, 606, 609, 620
VIA Link Express Sandy Oaks
Hours of Operation
Monday – Friday
6:30 a.m. to 6:30 p.m.
Bus Transfer Points
Brooks Transit Center
Connecting Bus Routes
7, 20, 32, 34, 36, 102, 552
Book Your Ride With The VIA Link App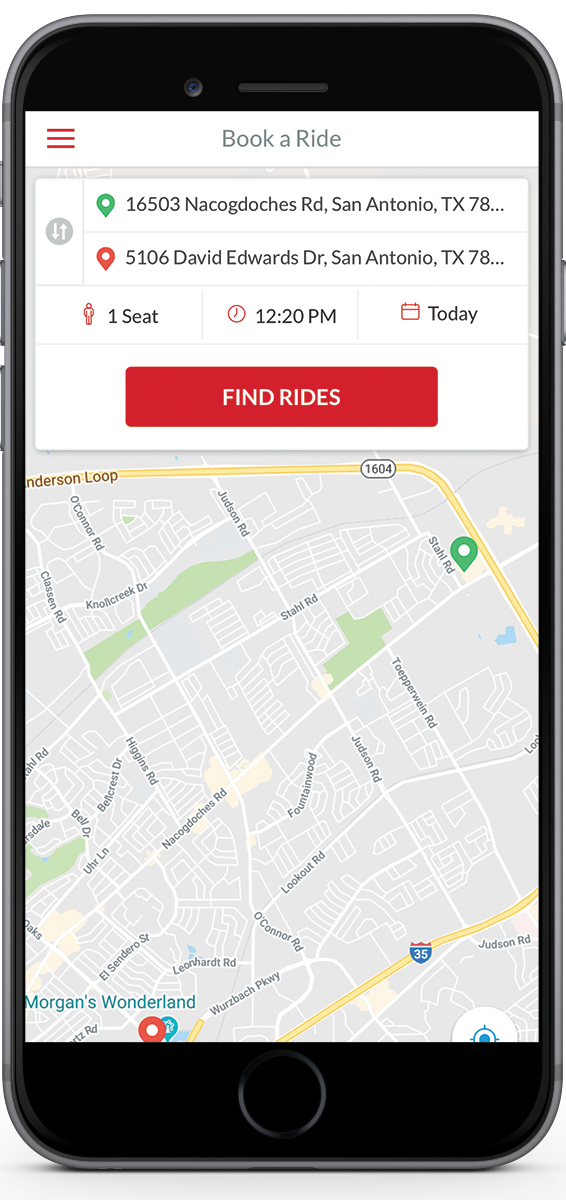 ---
1. Enter your pick-up name, start and end point.
---
2. Select the time and date of your trip.
---
3. Select the number of seats you need.
---
4. Select and confirm your route.
Other ways to book:
Call
Call (210) 655-

Link

[5465]
Provide a

VIA Link

agent a pick-up name, your current location and where you'd like to go.

Confirm your route.
VIA LINK TIP
You can ride instantly or schedule a ride up to seven days in advance. You will receive a confirmation and alert once your ride is booked.
Select how you would like to pay for your fare.
goMobile App
Open the

VIA goMobile

app.
Purchase your fare.
Activate your ticket when you're ready to ride.
VIA Transit Pass
You can also pay fare with a VIA transit pass.
Cash
Pay cash just like a bus ride – fare must be paid in exact change.
Optional: Enter a coupon code to redeem a free or discounted ride.
Meet At The Pick Up Point
Go to the designated

VIA Link

pick-up point.
Match the license plate provided in your mobile app.
If you called to book, the driver will know the pick-up name you provided.
Your driver may also pick up other passengers to share your ride.
When boarding, show your

VIA goMobile

ticket or VIA Pass to the driver.
If you're redeeming a promotional code, your driver will confirm your ticket.
Be on your way to your destination within the Northeast Zone, or connect to a VIA bus route serving a destination outside the Northeast Zone.
VIA LINK TIP
Arrival time provided to you at booking is an estimate. Actual arrival time may vary.
Book another

VIA Link

to travel within the Northeast Zone.
Book a

VIA Link

to the Naco Pass transfer point to transfer to a VIA bus for main bus routes like 10, 14 or 502.
If you're transferring to another VIA service, your

VIA Link

driver will provide you with a transfer pass upon request.
VIA LINK TIP
If you are planning a trip that requires a transfer to a VIA bus, be sure to book with enough time to assure you catch your next ride.
Find Your Route
VIA Link will expand your travel options from static bus routes to personalized drivers that will be able to take you all over the zone!
COMFORTABLE
When you book a ride, your seat is guaranteed. Sit down and relax.
FASTER
Cut down your travel time with more frequent service and shorter wait times.
EASY
You can tap, call or click to get going faster with service closer to you.
SAVINGS
Same low fares and discounts as regular VIA services.
BE ON TIME
Arrive at your pick-up point at least five minutes before the pick-up window. Upon arriving, your VIA Link will wait for one minute.
ACCESSIBILITY 
Just like the bus, VIAtrans customers are eligible for VIA Link service. You may choose to book a seat for your companion at no additional fare.
RIDE WITH A BIKE
Vehicles with bike racks are available upon request at booking, except in the Sandy Oaks Zone.
BOOK ADDITIONAL SEATS
Book additional seats for small children or up to four other passengers traveling with you.
Drivers & Safety Information